Hi at all and thanks for your help !

I have uploaded any capture for more useful information.
I have got a new ultrabook Asus UX301LA-DE002H Zenbook (amazing his speed !!). It has got two ssd hard disk of 256 gb with raid 0. Total space 512 gb
If i remember ok, the default partitions was (in this order):
System (fat32, 100 mb, gpt) / Recovery (ntfs, 900 mb, gpt) / SO (ntfs, more of 450 gb, gpt) / Restore (ntfs, 20 gb, gpt).
When i configured it, i divided hard disk with windows default partition app: C: with 80 GB and D (DATOS): with 375 GB.
Also i installed Acronis True Image 2015 and i did one full back up of all hard disk, except D. This backup is in a external usb.
Everything worked fine until i used Microsoft desktops 2.0. When the problems star i recovery by Acronis C: to C: and the problems were worse.
Now, i can't to star win8.1, either default recovery system and either recovery by acronis.
With Diskpart and Bcdedit, this is the situation:
I have created two new boots options. One with Acronis (like i said, imposible recovery by acronis) and other with Gparted and Testdisk (disabling "secure boot control").
When Gparted star, show me two messages. The first i ignored.
And this is the result of Gparted and Testdisk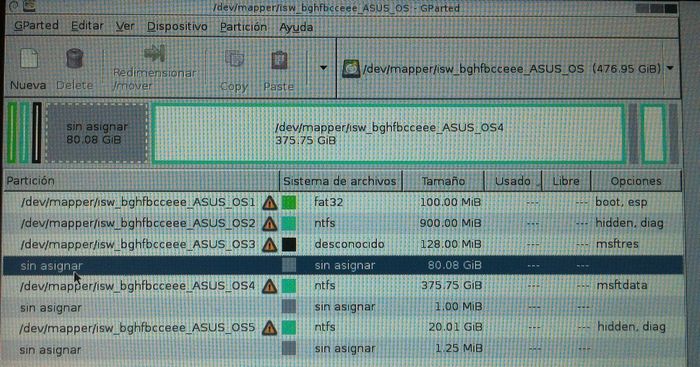 PLEASE, someone can help me to leave everything as it was.
Thank you very much