Hey everyone,
Salut à tous les francophones.
First a great thanks to cgsecurity team. Their work helped me a lot within the past years, and many of my friends too !
I'm encountering a difficulty while recovering files from a 32Go USB key.
Testdisk find easily the lost partition and I can list files without any issue.
However, I wasn't able to succefully "WRITE" the partition back in the classic process : It asked me te restart the computer, but after restart, nothing changed.
I tried the trick to rebuild the boot sector that seem to encounter error and the dump option, but it didn't work...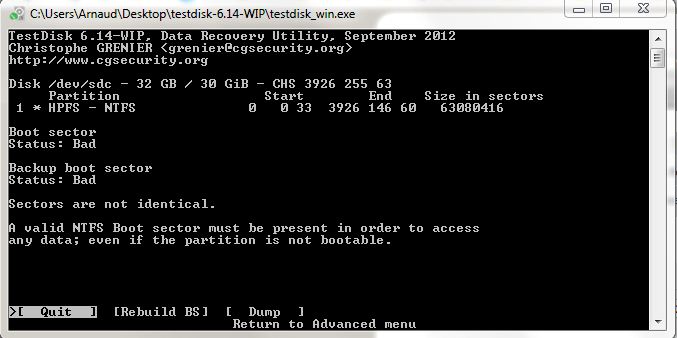 No big deal, a simple recovery of the file would be perfect.
Everything worked fine, except for a 25go larged file that is a TrueCrypte file (it's a file created to embedded a virtual encrypted disk in the usb key). Of course, the main part of the files i'm interested in are in that container.
When I copy it, the backuped file only size 1,0 go. I'm able to open it with TrueCrypte after that, but everything in there is corrupted : of course, i miss data.
Here is a screenshot of the probleme. Is it because the original file has been corrupted in any way ? (the file is CAZENOVE_ENCRYPTED
Thanks for your help !