Hello everyone,
At first I have a problem of deleted partitions, one of those partitions is part of a RAID0 (the first RAID) and it can no longer mount the RAID. I've read several threads here in the forum and tried several procedures in Quick / Deep Scan TestDisk without success.
I will describe what was done before, during and after. I ask you to be somebody help me, they are sensitive data and should not even be in a RAID 0.
This RAID was fully functional on a machine that had two SATA hard drives, both of 1TB. RAID was set up in software through the mdadm on the first drive (/dev/sda) was SWAP, GRUB, OS (Debian 7) and space for RAID partition. In the second drive (/dev/sdb) all the space was reserved for RAID partition.
One day, I had a problem in one of our XEN and migrated the HD server (also 1TB) for the RAID server and hard drives were placed in the following order:
sda -> XEN
sdb -> Disk 0 RAID 0 (0, 1)
sdc -> Disk 1 RAID 0 (0, 1)
Well, the XEN rose on the machine where there RAID mounted Definitvamente and I did not remember who had assembled structure in RAID or how exactly was. So I started searching again in order to mount the RAID0 now in XenServer Operating System (CentOS), only for my unhappiness, I ran the following commands:
sgdisk --mbrtogpt --clear /dev/sdb
sgdisk --gpttombr --clear /dev/sdb
Do not ask me why, I'm not to run commands at random without looking at each parameter, but this time it was. To my not suspresa, when I look at the disk partitions /dev/sdb, I had nothing left.
Searching for a way to recover the partitions came across TestDisk, and I've been betting all my chips on it so far.
I downloaded here:
http://www.cgsecurity.org/wiki/TestDisk_Download
I saw the step by step (
http://www.cgsecurity.org/wiki/TestDisk_Step_By_Step
) and various topics on recovery partitions.
Well, I used the quick search and it always appear two unrecoverable partitions with the following message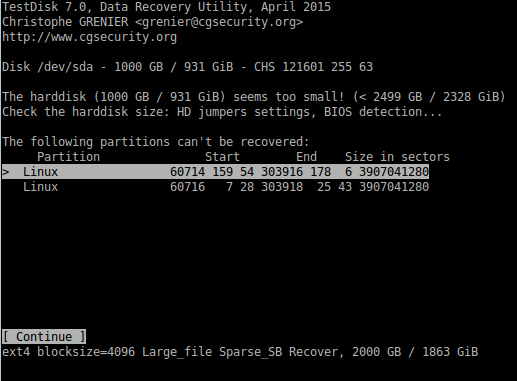 After confirming with "Enter" me was the following partitions displayed:
Now in the /dev/sdb is like this:
/dev/sdb4
/dev/sdc1